EVENTS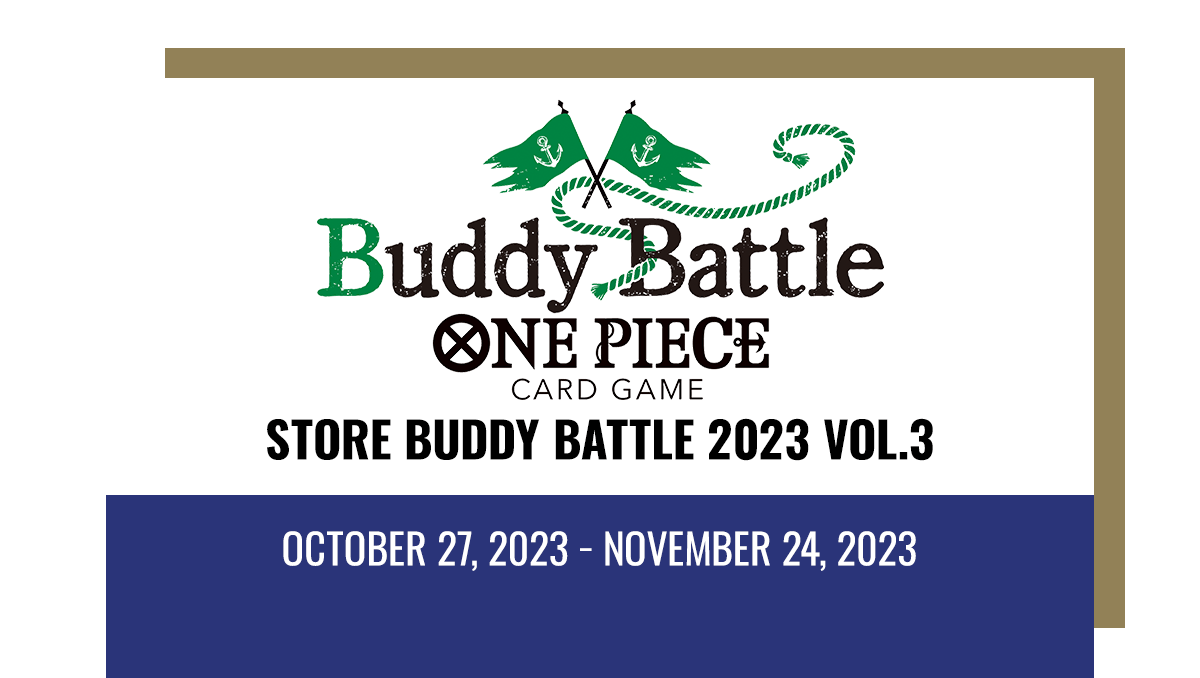 Store Buddy Battle 2023 Vol.3
Find a Crewmate to team up with and try it out!
What are Buddy Battles?
These Store Buddy Battles are 2-player team battles held at the more casual store level.
You can work together with your teammate by consulting each other during the match, which makes this format is easy for even beginners, casual players, and families to enjoy!
If you are a beginner, want more playing time at events, or are the type that has more fun playing on a team these are perfect for you!
Buddy Battle Rules
A summary of the main differences from other tournament styles.
・It's a 2-player team battle.
・Generally a single match 90min. long event. (*May vary)
・Teammates can consult each other during the match.
・Turn flow: Team A Player 1->Team B Player 1->Team A Player 2->Team B Player 2.
・Adjusted rules: Make sure to read the Buddy Battle Rules linked below.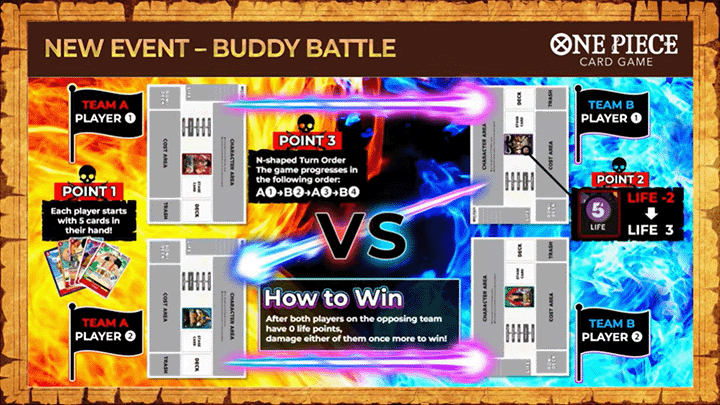 Buddy Battle Rules
(June 2, 2023)
Details
Period
October 27 - November 24, 2023
Prize List
Participation
Tournament Pack Vol. 4 x1
(per player)
*1 card per pack
*4 types in total
Winner
Sleeve -Ace/Sabo/Luffy-(10pcs)
(per player)
Judge Compensation
Judge Pack Vol. 1
(1 card per pack, 10 types in total)
*Please check the Judge Program Discord for more information on the Judge Program.
Application Method
*Players are encouraged to apply for the tournament through TCG+ and stores are also encourage to accept the application from players through TCG+.
However stores manage event registrations in different ways - Please be sure to contact your local game store directly to confirm your registration and participation.
BANDAI will not be responsible for any problems that may occur between the store and the player.
For how to register on TCG+ please check the bottom of this page.
*A Bandai Namco ID is required to register on TCG+.
Player Application Period
October 13, 2023 6:00am (PST)
October 13, 2023 9:00am (EST)
October 13, 2023 2:00pm (GMT)
*Store Application has already closed.
Important Note for when applying to a Store Buddy Battle
This event is primarily aimed at teams of two players. Players may apply solo, however please understand there's a chance you will be unable to play if you cannot find a partner at the event. Therefore, we recommend to apply with friends, family, etc.

TCG+ only requires 1 application per pair, so please choose a member to be the representative. Only the representative needs to apply on TCG+.
When possible, we would like to ask the store staff to kindly team up with the player who can't find a partner.
Apply on TCG+!