RULES
Banned/Restricted Card Addition Notice
For the ONE PIECE Card Game a deck may contain up to 4 copies of a single card (same card number), but for matches in Official/Certified Tournaments it may be necessary for some cards to be made "Banned/Restricted Cards".
There are 2 groups when this happens, "Banned Cards" and "Restricted Cards". When a card is a "Banned Card" it is not permitted at all in decks used, while a "Restricted Card" means only 1 of that card is permitted in the deck.
*All cards with the same card number are considered the same card even if the illustration is different.
Cards that are designated as "Banned/Restricted Cards" here may have this removed during updates depending on the current conditions of the game so please check it carefully when making a deck for an Official Tournament.
In consideration to the current game rules and environment the below cards are added to the Banned/Restricted Card list as of the pre-release date of OP-03 -PILLARS OF STRENGTH- in your region.
Banned or Restricted Cards effective
from OP-03 Pre-Release
Restricted Cards
A deck must not contain more than 1 copy of the following cards to be permitted in official competitions.
There are currently no Restricted Cards
Banned Cards
A deck must not contain this card to be permitted in official competitions.
OP02-024 Moby Dick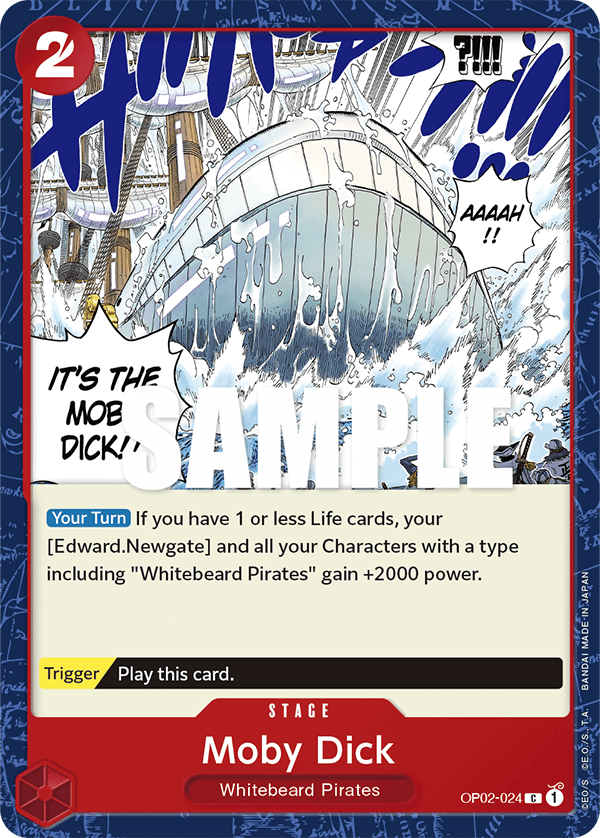 This card has proved to have much lighter demerits than intended when played with "OP02-001 Edward Newgate" and meets the condition "If you have 1 or less Life cards~". Also, since it is a stage card it is difficult to remove from play, and if the conditions remain met it tends to drastically quicken the match.
In addition, when played with "OP03-003 Izo" the required condition becomes very easy to recreate.
This makes it commonly used in tournaments and raises the chances of winning too much, which unfortunately reduces the range of tactics that makes the ONE PIECE Card Game fun. For this reason, this card is being placed on the Banned Card list.
OP02-052 Cabaji
When played with "OP03-040 Nami" this card promotes play-to-win tactics without making any attacks and ignoring the offensive and defensive tactics an opponent can use.
Also, this card's effect to draw cards based on trashing card's allows players to reduce the number of cards in their deck more than expected when paired with other cards like "OP01-086 Overheat", and "OP03-047 Zeff".
It's been confirmed that decks that use "OP03-040 Nami" can be set with other cards as well and not cause problems. In the end to maintain a healthy playing environment into the future this card is being placed on the Banned Card list.