RULES
Errata Cards are cards which have their text changed due to misprints, to clarify translation or wording, or to adjust game balance. The Card Errata "After" text is applied to all game formats and takes precedence over the original wording of the card. We sincerely apologize for any inconvenience caused.
September 26, 2022
Effect text regarding "up to" on cards from Starter Decks ST-01/02/03/04 and Booster Pack OP-01 has been adjusted for clarity and to better match the Japanese text.
Please check the announcement for details.

*This errata was announced on September 2.
Announcement
Note:
This is an image of the fixed, post-errata version.
September 16, 2022
Important Notice Rule Revision and Errata (Text Changes)
Revised content of the rules
The rules regarding Life cards will be changed. Please take note of the following information.
Before Change
When your Leader takes damage, choose any card from your Life area and check its contents without showing your opponent.
After Change
When your Leader takes damage,

check the contents of the card at the top of your Life cards without showing your opponent.
*When placing life at the beginning of the game, the card at the top of the deck will be placed at the bottom of the life.
Effective as of September 30, 2022
Errata Cards (Cards Subject to Text Changes)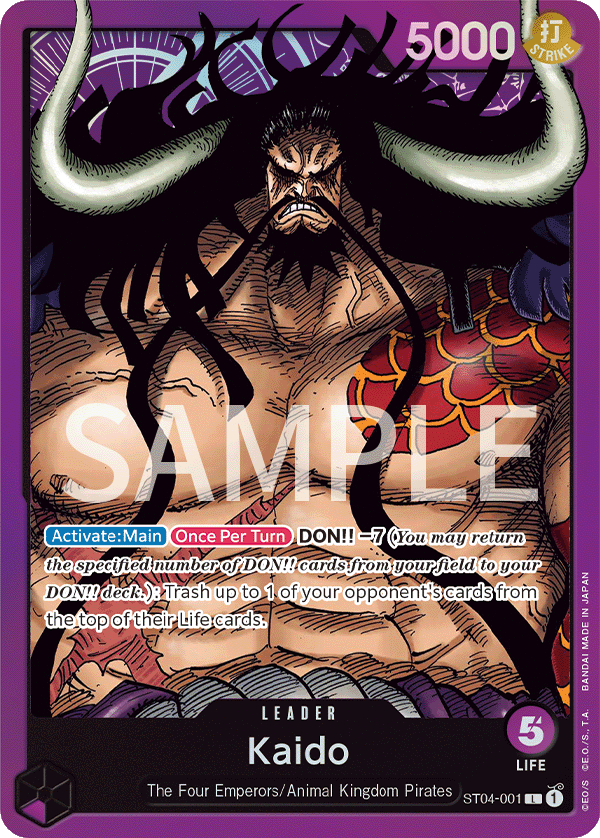 ST04-001
Kaido
After the rule revision,
this card will be treated
as having the following effect.
[Activate: Main] [Once Per Turn] DON!! −7 (You may return the specified number of DON!! cards from your field to your DON!! deck.): Trash up to 1 of your opponent's cards from the top of their Life cards.