EVENTS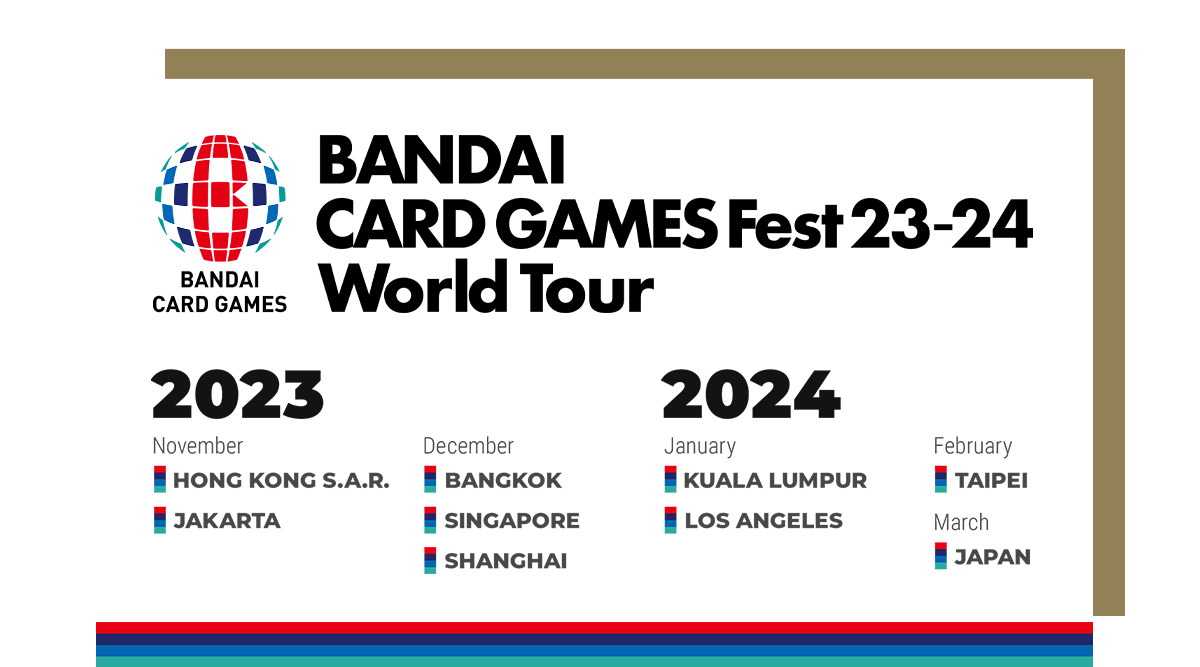 BANDAI CARD GAMES Fest 23-24 World Tour in Los Angeles
Details
Overview
Bandai Card Fest 23-24 World Tour, a huge event combining Bandai Card Game titles, will take place in 9 locations around the world!
The North American Championship Finals for the ONE PIECE Card Game will also be held at BANDAI CARD GAMES Fest. 23-24 World Tour in Los Angeles! 
Join us in Los Angeles to Crown North America's Card Game Pirate King and decide who goes on to the World Championship in Japan on March 2-3, 2024! More information on the World Championship is coming soon. 
That's not all, there will also be exclusive goods for sale and giveaways at the World Tour venues on the event day. We hope to see you there!
Event Schedule
Tournament Organizer

CORE TCG
Date

Early On-site Check-in: January 26th

*Get x1 extra Championship 2023 Event Pack

Tournament Day 1: January 27th
Tournament Day 2: January 28th
Venue

Los Angeles Convention Center
Admission

Free

*Tournament is free. Participants will be able to purchase event commemorative items only by pre-Ordering in advance on Premium Bandai USA and picking up on site.
*You may only participate in 1 FINALS Tournament, you cannot participate in the finals for more than 1 title.(This also includes DRAGON BALL GAMES BATTLE HOUR)
Link

Round Bye List

*The Round bye list is run by the TO, please ask TO for further information.
Stage Schedule
Coming Soon
Registration
NA Championship Invitee Priority Registration (Invite -Only)

November 2 7:00AM(PT) - November 8 5PM(PT)
NA Championship Player Registration (General Admission)

November 9 5:00PM(PT) - December 20 5PM (PT)
Spectator Registration

December 21 2023 5:00PM(PT) - January 3 2024 5PM (PT)
Register Now
Important points to note!
Please read this before applying.
*You may only participate in 1 FINALS Tournament, you cannot participate in the finals for more than 1 title.
*Spectators cannot participate in Championship Finals but can join side events, trials, stage events etc.
*For players who receive a round-bye after November 1, a priority registration slot will be available for you. More information coming soon on our website/social media.
*It will be set so a participants cannot apply for more than one title's FINALS. Anyone attempting to use multiple accounts to apply to multiple FINALS will lose their right to participate in any of the tournaments and have their account suspended.
*One Piece Card Game North America Championship Finals has been changed to an open event as of September 7, 2023.
*North American players who won an invite from regionals will have priority registration and receive a two-round bye in place of their invite.
*The World Championship is scheduled to take place in Japan on March 2-3, 2024. Winners of Final Championships in each region should ensure they are available to participate, and understand that further schedule adjustments may be required.
*You may participate in offline events even if you live in another region. However, you must maintain residency in that region in order to represent that region at a World Championship event. If a non-resident wins the Championship Finals event, their World Championship invitation will be passed down to the next highest-ranking resident of North America.
*Event dates and details are subject to change.
*Prize details are subject to change.
Prize
Free Giveaway
P-041 Monkey.D.Luffy
More Coming Soon
Prizes for High Ranking Players​
Please see the detailed list of the prizes on the page for the Finals.​
2023 Championship Finals
Event Commemorative Items
STEPS TO PURCHASE
①Tournament Registration
②Pre-order at PREMIUM BANDAI USA
③On-site pick up
Product List
Limited Card Sleeve -Monkey.D.Luffy- ②
MSRP: USD $9.00
Contents: Set of 70 sleeves
Limited Card Sleeve -Standard Black Gold-②
MSRP: USD $9.00
Contents: Set of 70 sleeves
ONE PIECE CARD GAME Official Playmat -Bandai Card Games Fest 23-24 Edition-
MSRP: USD $30.00
Contents: 1 Playmat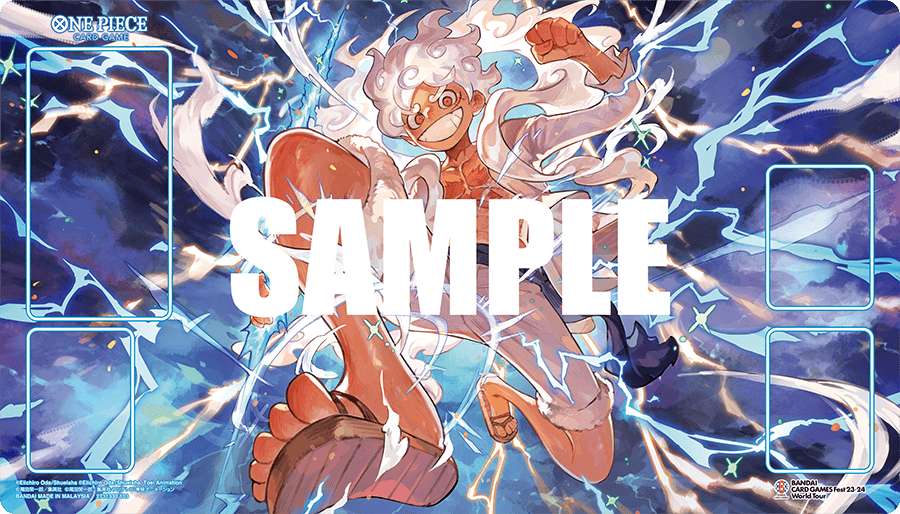 *A Premium Bandai USA purchase URL will be sent in a message to through TCG+ when your registration is confirmed.
*After making a purchase of these goods you will need to pick up the purchase at the venue. They will not be shipped. Please understand that we are unable to accept cancellations if you are unable to come collect your purchase.
*Purchase quantities are limited. The preorders may end without notice. You must preorder before January 7 at 5:00PM (PT).
*Products may be on sale at events or through other opportunities later on.