FEATURE
RECOMMENDED DECKS

(Black) Sakazuki
Lower opposing Characters' costs and then K.O. them with this removal deck that takes control of the board!
Concept
This deck helmed by three navy admirals conquers the board with a combination of effects that reduce the cost of and K.O. opposing Characters.
Bust out the 10-cost Kuzan to put your opponent on the ropes, and overwhelm them with powerful removal abilities.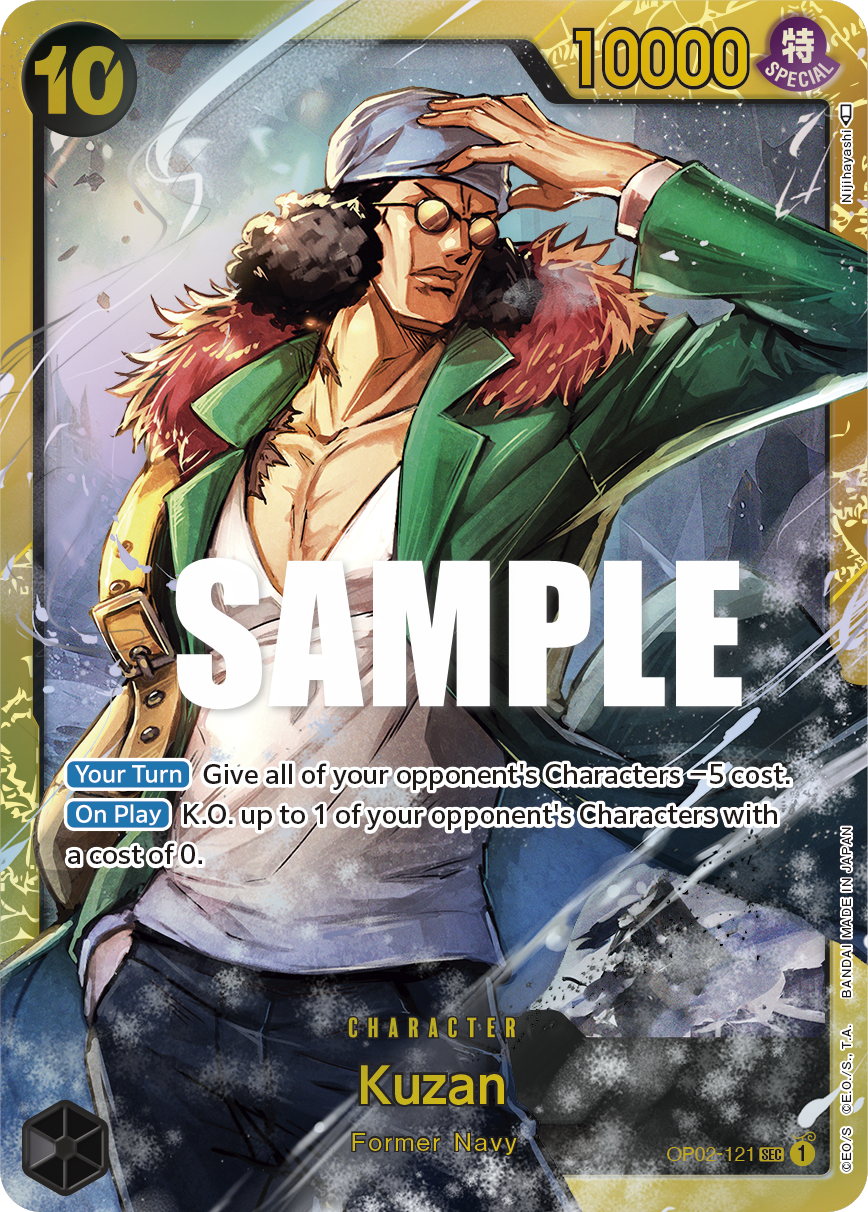 CARD LIST
Products Used in This Deck
Deck Breakdown
Early Game
Black decks do not perform very well in the early game.
To prepare for the midgame and beyond, set up your field using Characters with Blockers and effects that lower your opponent's costs.
Drawing is extremely important for black decks which depend on consuming the hand while removing cards.
You particularly want the 4-cost "OP02-096 Kuzan" on your field as a card that can lower costs when attacking.
Mid Game
Take control of the board with powerful K.O. effects.
Combine cards that lower your opponent's costs with "OP02-099 Sakazuki", "OP02-098 Koby", and "OP02-119 Meteor Volcano" to remove your opponent's strong Characters.
While K.O. cards are powerful, they also mean consuming a lot of cards in your hand. Determine which opposing Characters are a threat and focus on removing them.
If you're playing against an aggro deck such as red Zoro, it's best to have "ST06-014 Shockwave" at the ready.
End Game
Your goal for the endgame is to unleash this deck's finisher, the 10-cost "OP02-121 Kuzan".
Having this Character on the board will instantly make the Leader effect of "ST06-001 Sakazuki" and various other K.O. effects more powerful. Be sure to consider this when deciding your approach.
Just bear in mind that once you play "OP02-121 Kuzan", you will still need enough Life cards to survive until your next turn.
"OP02-121 Kuzan" lowers the cost of all your opponent's Characters by 5 just by being on the field.
Use it in combination with "ST06-001 Sakazuki" to K.O. a Character with a cost of 5 or less each turn, or 10 or less with a second "OP02-121 Kuzan" in play.