FEATURE
RECOMMENDED DECKS

(Red) Edward.Newgate
Unleash powerful waves of attacks with this offensive deck to crush your opponent before your time runs out.
Concept
Harness and curb self-inflicted damage to launch a barrage of attacks with powerful Characters and the mighty 6000-power Leader card Edward.Newgate. Close out the game with Moby Dick and an all-out assault from the Whitebeard Pirates crew!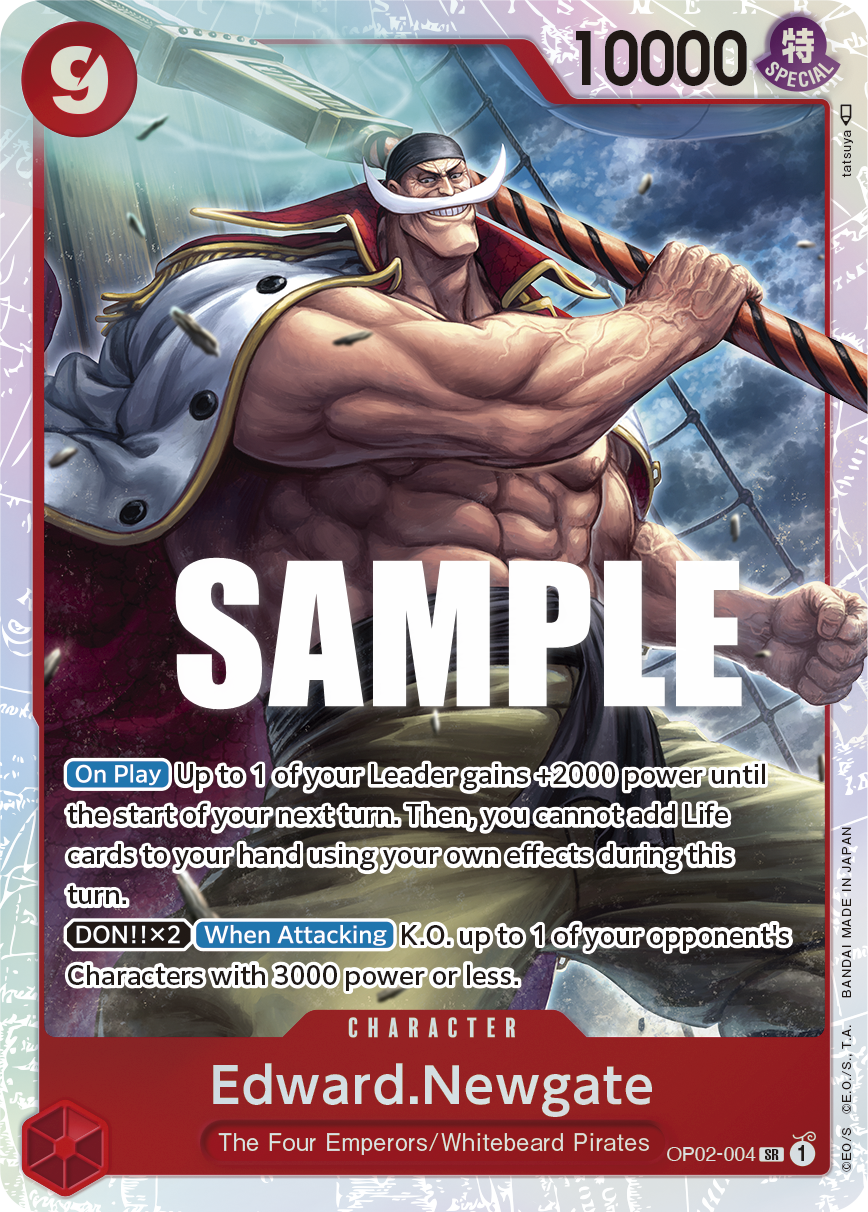 CARD LIST
Products Used in This Deck
Deck Breakdown
Early Game
The bold attacks of Leader "OP02-001 Edward.Newgate" shouldn't be used against small-fry Characters.
Instead, keep "OP02-014 Whitey Bay" and "OP01-017 Nico Robin" on your field to deal with low-cost Characters played early in the game while you use "OP02-022 Whitebeard Pirates" to search for your finisher.
"OP02-021 Seaquake" can also be used to K.O. low-cost Characters. However, it's more powerful when used in combination with "OP02-013 Portgas.D.Ace" or "OP01-006 Otama", so you should hold onto it if possible.
Mid Game
You'll now be able to make use of "OP02-023 You May Be a Fool...but I Still Love You". Play high-power cards to gain an advantage on the board while minding your remaining Life cards.
"OP02-013 Portgas.D.Ace" is extremely powerful in capturing the board. It can easily eliminate your opponent's Characters by lowering the power of Characters played early in the game and then attacking.
End Game
Attack by playing cards while protecting your Life cards.
Make good use of 9-cost "OP02-004 Edward.Newgate" as a card that can do both, along with "OP02-018 Marco" and "OP02-024 Moby Dick", whose conditions you should satisfy at this point.
Your ideal play is to have "OP01-029 Radical Beam!!" at the ready while you unleash a barrage with "OP02-004 Edward.Newgate".
The Blocker "OP02-018 Marco" can become an attacker in the final turn. If you're confident you can win the game, buff your cards with "OP02-024 Moby Dick" and "OP02-019 Rakuyo" and rush your opponent.